Electronic Press Kit
The official dot.darkness EPK
About the band
dot.darkness (pronounced dot-dot-darkness) is a nerdy electronic rock duo based in Texas. The band formed in Nashville in 2011 while the two members were earning their computer science degrees and dabbling in audio engineering.
Josh Sheehy has a long history with dance music, making waves in online communities under various pseudonyms. Colin Hemphill came in with a background in hard rock and metal. During his summers home in Austin, Colin played as the lead guitarist in a local post-rock group called Wildshire.
With this background under their belt, dot.darkness developed their unique sound by drawing on influences from classic video games, synthpop, synthwave, darksynth, drum & bass, alt metal, djent, and prog rock.
For fans of: Carpenter Brut, Pendulum, The Midnight, The Prodigy, Feed Me, Spor, Nine Inch Nails, The Black Queen, Mick Gordon, Celldweller, Power Glove
Music samples
Accolades
Jon Gooch (Feed Me, Spor)
In January 2013, legendary electronic producer Jon Gooch released an EP called Death By Robot under his Feed Me persona. The title track was later released on his album Calamari Tuesday. Only three days after the song's release, dot.darkness produced a full cover of the song and shot a video long into the night, releasing the video upon the world before heading to bed. Their take on the song replaced the robot vocals with human ones and added some traditional dot.darkness guitars.
By the next morning, the video had blown up after Jon tweeted about the cover.
Tweet not found
The embedded tweet could not be found…
Jonathan Coulton
In April of 2011, shortly after the release of Valve's Portal 2, dot.darkness performed a cover of the song The Future Soon by internet superstar Jonathan Coulton. At its release, JoCo himself tweeted about his love for their take on his song.
Tweet not found
The embedded tweet could not be found…
Contact information
To get in contact with the band regarding booking opportunities, email booking@dotdotdarknessmusic.com and one of the boys will get back to you soon.
Stage requirements
dot.darkness provides their own personal instruments and guitar amplifiers. We also operate our own in-ear mix from the stage, so wedges are not a requirement for monitoring. The venue needs a PA system for FOH, and the house engineer should be present for sound check and performance. We typically require at least 8 XLR inputs to accommodate all vocals and instruments.
Standard setup
Josh's lead vocal: wired handheld microphone, straight or boom stand, stereo XLR
Colin's vocal: wired handheld microphone, boom stand, mono XLR
Laptop output: stereo XLR
Electric guitar: stereo XLR
Branding
Style guide
The following guide describes our preferred use of the dot.darkness brand and image, including the color scheme and logo.
Colors
Our color scheme is designed to be simple to use as it primarily features high contrast dark grays and white. Our primary color is a saturated purple inspired by the artwork for our album Polymorph, and our secondary is a saturated pink. When used correctly, our color scheme meets the Web Content Accessibility Guidelines (WCAG) for color contrast, with a AAA or AA rating.
Our preferred color scheme is always white text against a dark background, and this dark theme should be used wherever possible.
Logo
Since we prefer white text against a dark background, we almost always use a white logo. However, the dark logo is also provided in our asset downloads when this is not possible, such as print media on white paper.
Standard logo
Our standard logo fits in just about any space and is useful for most purposes. Since it features negative space, it's important to pay attention to the background it is placed on.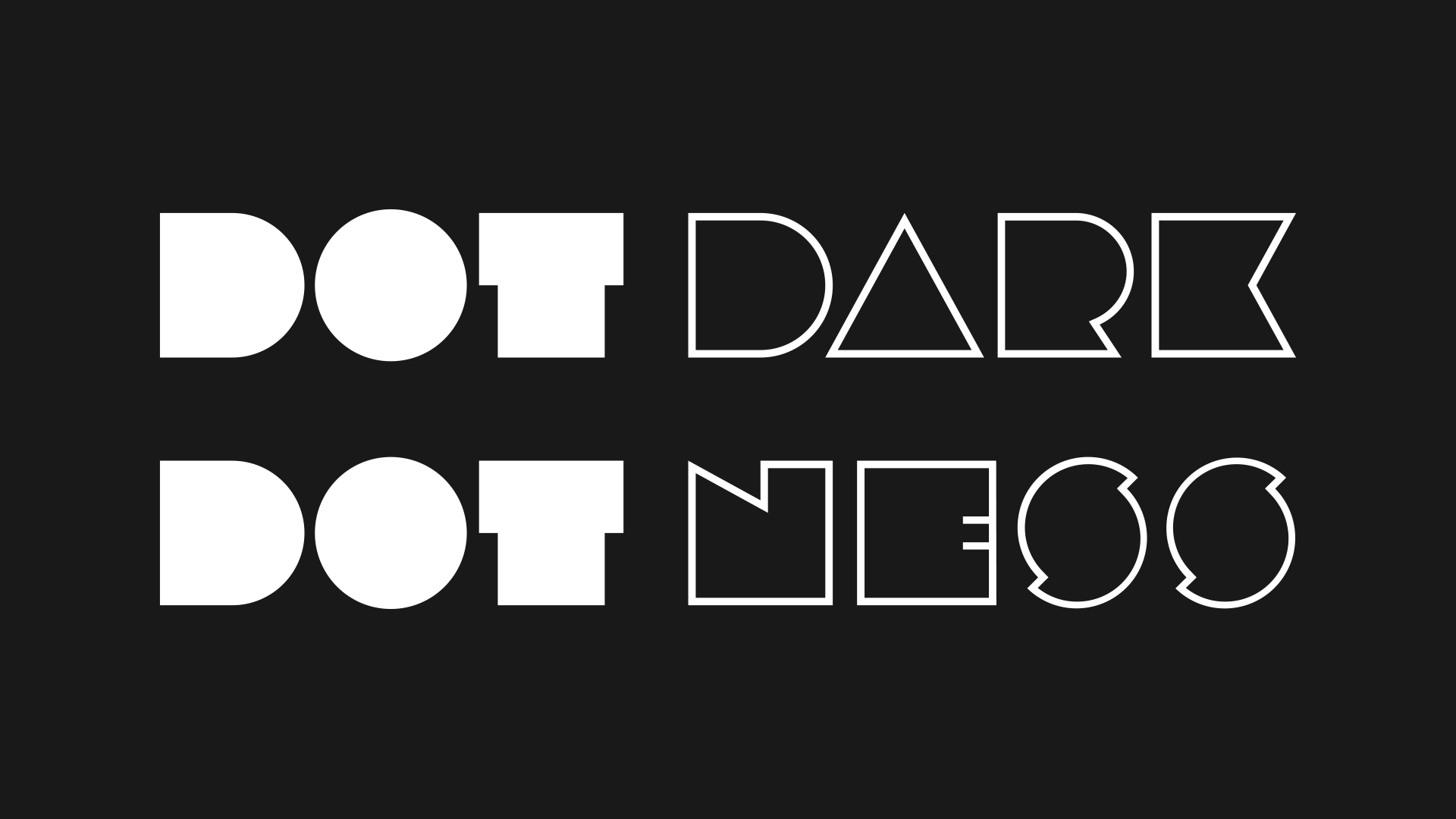 Banner logo
The banner logo is useful for short and wide applications, such as social media banners.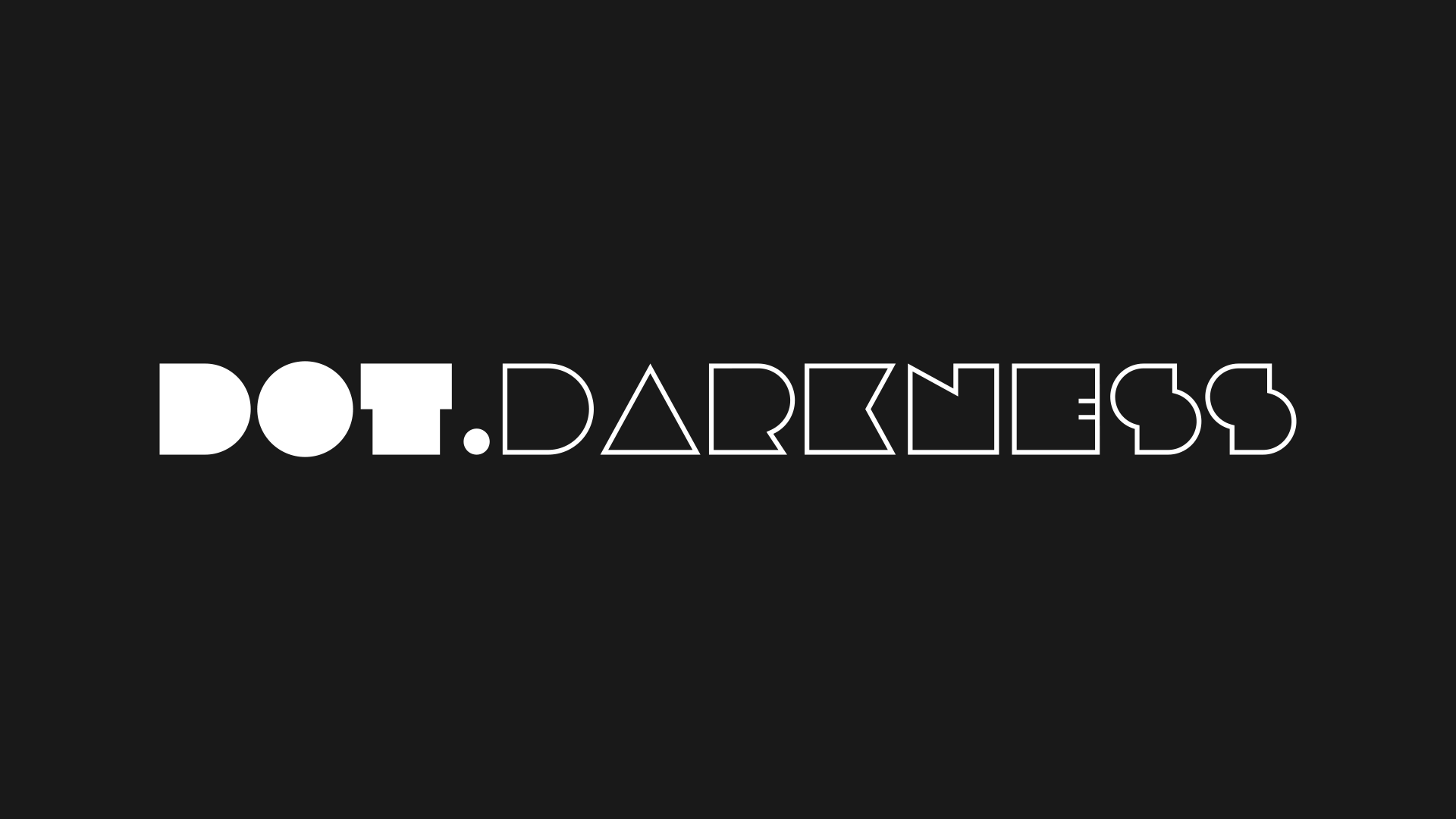 Face logo
The face logo has limited use as iconography to represent the band. In general, it should not be used absent of the standard or banner logos.

Promotional assets
The following assets are approved for use in the promotion of a dot.darkness performance that you manage. e.g. if you are the owner or employee of a venue who is hosting our concert, an online creator who will be hosting a virtual performance on their platform, a podcast host who will be hosting an episode featuring an interview with dot.darkness, etc. All rights are reserved on these assets, and improper usage may result in a takedown request.
We know that time and budget for creating promotional materials can be limited, but please try to align to our brand guidelines as much as possible if dot.darkness is a headlining act. Each download is packed in a ZIP file.